Shopping Cart
Your Cart is Empty
Thank you for your business!
You should be receiving an order confirmation from Paypal shortly.
Exit Shopping Cart
GAZEBO FOR THE ATC - $2,000
Our ATC is now the ONLY working farm in our village and it's getting quite the attention! There is a college for agronomists in Pignon where the President of the school is so impressed he wants to start holding seminars on the property and where his students can get hands on practical skills training.This requires a gazebo that will serve multiple purposes
1. Hold seminars where our ATC team can start training farmers plus local colleges can come and get hand on training and not just book knowledge.
2. A place for the guys to cool off and enjoy lunch in the shade
3. An open air farmers market where we can sell our fruits and veggies a few times a week instead of the locals only being able to buy at the Monday Market . There are other markets but they are over 25 minutes away and most folks can't afford the motorcycle ride.
4. This could serve also as a guardhouse which would be utilized especially around harvest time to protect our crops from being " harvested" by the locals .
A FLAT BED MOTORCYCLE-$3,000
The land is pretty big and this transportation would make it very easy to not only get around the property but also allow the guys to go to local market with the vegetables. It can also be used for delivering goats and food baskets and is very versatile.. heck one of these came even fit up six people in it !
FOOD BASKETS / SHOES / CHARLES STANLEY SOLAR AUDIO BIBLES
This month we were so blessed to give out 15+ Food Baskets to families in great need. We gave out 75 pairs shoes
Thanks to our partnership with Charles Stanley we went out and evangelized and handed out over 50 of these Bibles
There was so much more accomplished but if I wrote it all our it'd be a novel so feel free to go to my facebook page where I still have yet to post it all but you can get a good idea of all that went on .
LOOKING FORWARD
Paul and I have been asked to go onto CTN Christian Television Network Bay Area Focus program on May 10th where we will have the full 30 minute show to talk about Psalm139LOVE. We are very excited to share all God is doing and praying that this might open doors to have more partners and support for the ministry.
If you would like to give towards one of these projects or become a MONTHLY PARTNER please visit our website at Psalm139LOVE.com
Our Psalm139LOVEATC is a 3.75 acre piece of land that we haven't even had one year and the Lord has allowed us to accomplish so much! We have a well, well tower run by a solar pump and panels , professional farm grade irrigation and an 8,000 gallon cistern. We had made a down payment and were under a 4 year contract to pay off the land but we felt the need to pay it off in full on this trio and that was the desire of our hearts.
Without sending out any letters stating our need we PRAYED and prayed intensely. Just about a week later God put it on a friends heart and we went down with FULL PAYMENT in hand and now we can say we are LAND OWNERS !
PRAISE THE LORD !
This was kept very secret and as a surprise for our team so if you'd like to see the " big reveal" watch the video ;)
Delivery Vehicle April 2021
Our military truck was worked on by a Haitian mechanic that installed a part wrong and did quite a bit of damage to the engine so Gods General has been out of commission for awhile. We are working on a plan now to have it fixed but in Haiti everything takes much longer to do.
In the meantime we had no vehicle to get around in and it costs $150 a day to rent a truck in the countryside ! Yes you saw that right a staggering $150 US DOLLARS a day. We needed reliable transportation not only for teams but as fruit and vegetable delivery to the restaurants and markets our Psalm139LOVE team are selling to.
Again God opened the door and a missionary friend of ours messaged me and felt lead to offer for us to buy his Toyota 4 runner that he wasn't using. It was in fabulous condition and many other missionaries had asked to buy it but felt lead by God to only offer it to us.
We are now the proud owners of the beautiful vehicle which has already been coming in very handy for the work of the Lord.
Again this was a surprise I held off on telling the guys till just about the last day stating we were " borrowing " the truck. Want to see the surprise? The guys were super excited to have this blessing!
So you would like to know what we are all about? The short version is 1. ​Building Agricultural Training Centers to teach Haitians how to take care of themselves. 2. Cl​ean water by fixing and digging wells as water is life. 3. Evangelism or spreading the Word of God sharing the living water of the Gospel.
Many of you​ are new donors lately and haven't seen this video made for Psalm139LOVE by John Lain. It truly is about RELATIONSHIPS that we have in Haiti. Most everyone there is family to us and many have been my dear friends since my very first trip in 2008.God blessed me with a husband, Paul Pecott, that that is passionate like I am about ministering in Haiti.
We have an amazing team Josh Leventhal, Augustave Anson, Borgella Jodelin, Brunot Jean , Ritho , Bisson, and Madame Elimane that God handpicked and knit us together. We were honored to have had MFI choose Psalm139LOVE last July to follow us one Sunday and film our entire day. Hopefully this gives you a little insight to our ministry. Thanks to all of our donors who trust us with your donations and those who pray for us.
Here are a couple of video's about how we started, some of the things that have been accomplished and plans for the future. Any questions feel free to contact us. Thanks for checking us out and enjoy the video and our website.
Donations & Monthly Supporters
We ​have a variety of projects to choose from for you to donate towards or you can be a monthly supporter. Monthly supporters supply the salaries for the Haitian employees and well as the nuts and bolt​s background costs for the charity as Amanda & Paul do not take a salary. Please consider even smaller amounts monthly as no amount is too small and goes so far towards helping those less fortunate in Haiti. Thank you for considering support for Psalm 139 Love.
PSALM 139 LOVE ATC TEAM VIDEO!!​ ​ ​February 2021

WOW!! A big huge shout out to Borgella Jodelin who put this AMAZING video and surprised me, Paul Pecott Josh Leventhal and Barbara Howard with it yesterday!! It showcases the amazing team that God has assembled - Jodelin along with Augustave Anson Brunot Jean Louis Ritho and Bisson ( our team) along with our neighbor and friend
Job Normil. You get to see beautiful views of the land, the cistern, the professional irrigation and the bountiful crops of peppers 🌶 and tomatoes 🍅 -a big thank you to David-Maxine Balsbaugh of Hope Seeds for supplying us with these non gmo seeds specifically cultivated for the land in Haiti. We have some future plans going forward for this land to also be a training center for agronomists and farmers and we'll be holding seminars plus we are now selling to local restaurants and markets 😊
Want to sow seed in good ground?
Psalm139LOVE.com to donate
Or
https://psalm139love.networkforgood.com/projects/104161-main-giving-page
Food Baskets February 2021
Food Baskets are an ongoing project that is truly needed especially in our area where we serve. Their is currently another gas crisis and regular gas was selling for $11 a gallon U.S. money 😡 you read that right ELEVEN dollars a gallon which would have us here in America outraged. We know what higher gas prices can do , now think about in Haiti where most of the food is imported from the Dominican Republic. The higher gas prices affects everything from household items, tools, basically everything they use and especially food. Many who were already struggling to just eat one meal a day are going without anything to eat a few days at a time and even worse some of these are children. In Haiti there aren't any food banks , government help or safety nets for those in need.
Madame clini - her husband was murdered and she has 3 children to feed
Angeline- she has six children and her husband abandoned her while she had a baby that was still breastfeeding.
Samanta- she has 3 children and like Angeline her husband abandoned her as well.
These are 3 families that we have helped numerous times because they are in great need. This was actually the first time I saw Samanta smile in a picture and through your giving these ladies can see firsthand the love of Jesus.

Food Delivery Truck Need February 2021
Our team has already been able to sell our crops of sweet peppers 🫑 and tomatoes 🍅 to some of the local restaurants! We are so excited because God has given us the vision for our ATC to be a business and it's happening ! This provides additional income for our team as well as providing vegetables and fruits locally making the village more independent and not reliant on shipments coming in from the Dominican Republic.
All of this being said we are now in need of a delivery vehicle to take our produce to restaurants and markets as we do not know what's going to happen with the military truck. This will also be of great use to smaller teams and to have in case of Gods General breaking down. The option of renting a car is not economical as it costs $150 a day plus paying a driver and additional $40 as well as gas which ends up being $200 a day! The guys have been using the two motorcycles but it's not really feasible or professional as they load the veggies in a plastic bin and bungee cord it to racks on the back of their bikes.
The most excellent news is that our friend, a fellow missionary who has a compound close to ours literally offered to sell his 2nd vehicle to us for just $3,000! It's a fully functioning Toyota 4 Runner which can not only handle the roads but is also a very easy vehicle to buy parts for and maintain in country. If anything goes wrong with our military truck we have to ship the parts in which can be very challenging. This Toyota 4 runner will be a real blessing!

We started a newer project this month after we realized that there was a great need for shoes ... sounds simple doesn't it? Something we take for granted here in America however in Haiti where most families struggle to provide food, shoes become a luxury item.
I've seen firsthand the devastating effects on feet which were the result of walking in unsanitary conditions as a lot of Haitians do not even have an outhouse and use their backyard as a bathroom. There are diseases and parasites in Haiti that are unlike anything we've seen here in the U.S..
This month we were able to give out 50+ pairs of shoes and below are some of the recipients. As you can see some of the children were smiling 😀from ear to ear and one was posing for the camera !
This past month we were able to build a water cistern that is
12 by 12 by 8 feet tall and can hold up to 8,000 gallons of water which was needed for our 3.85 acre property. After the cistern was built the guys went ahead and installed more of the professional farm grade irrigation and transplanted the fruit trees we had donated! Now the entire land will be able to have water which is essential because there are only 1-2 rainy seasons in Haiti. The rest of the time the land is bone dry and it can go months without even one rain shower which leaves the land absolutely parched.
Anson, Brunot , Ritho , Bisson and Jodelin had their first crop of beautiful peppers that you see in the pictures and our praise report is that two local restaurants bought the whole harvest and are asking for even more!
With the profits they have made they are hiring a few day laborers to help plant more crops and work with them on making more seed beds and buy compost and fertilizer. This is start of the business God has shown us in the vision he has for the ministry and it's so wonderful to see it happening. We are very grateful for David and Maxine Balsbaugh, of Hope Seeds ,who have donated a tremendous amount of seeds that we give out to local farmers and use at the
Psalm139LOVE ATC. A special thank you to Mary Mc Laughlin from The Trees That Feed for the 200 fruit trees that were donated in September. In the near future our ATC will look like a garden of Eden ;)
​Food Baskets in​ January
Food insecurity is major problem in Haiti ,but especially in our area which is c​ountryside where jobs are scarce , so we are fighting that on multiple fronts. This includes seminars for farmers with seeds given after completion, providing food baskets for widows and single mothers as well as growing vegetables and fruits at our ATC .
We were able to provide 11 food baskets this month and here are some of the recipients.
A simple gift of rice, pasta, butter, oil , magi ( bullion cubes ) and garlic is a huge blessing for many families who simply don't have the money to buy these staple items that are in every Haitians daily diet.
If you would like to provide food for someone who is truly in need feel free to donate any amount and we will use it accordingly. Our food baskets are usually anywhere from $50-$100 depending on how many people are in each family.
ATC Irrigation January 2021
Our amazing Psalm139LOVE team has been hard at work at the ATC and they were able to lay the professional farm grade irrigation we had donated and flown into Haiti.
This will allow a massive amount of our 3.84 acre property to get watered on a continual basis which is such a benefit when growing any fruits or vegetables as we all know. In America we don't face the same problems they have in Haiti because it rains often or we can simply turn on a faucet or hose and get whatever amount of water we need. Haiti is a totally different story.
There are only 1-2 really good rainy seasons in Haiti and the rest of the time the land is bone dry which is the major cause of food shortages . Fruits and vegetables simply cannot grow without water but thanks to Calvary Chapel, The Olive Tree Messianic Fellowship and many faithful friends of Psalm139LOVE we have a well, well tower with a 600 gallon holding tank and solar panels to power the pump plus the irrigation that you can't even buy in Haiti.
The General needs your Help!

Our truck is extremely important to the ministry because it's literally a beast and can go anywhere and not get stuck. However we have had a problem with a mechanic who installed a part wrong, causing it to overheat thereby destroying a lot of the engine parts.
God has opened the door and connected us with another missionary who has two trucks of his own like ours here in the states. He has looked over the pictures we sent and knows what needs to be done and is willing to fly over this April to help a mechanic in town fix it as well as train him on how to maintain it.
The engine we plan on buying is used but in great condition in Oklahoma. The engine costs $1,350 and we will need to deliver it to Tennessee where our friend will join Josh to work on it , get it ready , then fly the parts down into Haiti. We approximate the total cost to be around $4,000 for all that needs done.
We would be very grateful for donations in any amount to help ya get our truck fixed as it is vital to the ministry.

Agricultural Training Center Update December

We made the down payment on 3.84 acres of land near our house in Bohoc and have been in the process of building or 2nd ATC ( Agricultural Training Center). We still need to pay off this land and would welcome any donations to help us do so- please message us privately if interested.
1. We had a 140 foot well drilled that is operated by a solar pump, built a well tower and had solar panels installed as well as purchased a 600 gallon holding tank for the water. We will be installing the professional farm grade irrigation this month.
2. Started a goat farm with 7 female goats purchased this year and our male stud goat Abraham to be a " blessing" to the lady goats;)
3. We had a variety of 200 fruit trees donated by Mary Mc Laughlin of the Trees That Feed Foundation which are now thriving at the ATC.
4. We will open this as the first Farmers Market of it's type in our area which will supply local restaurants with food and sell our produce at local markets. The guys have already harvested watermelon and sweet potatoes and recently transplanted sweet peppers and tomatoes that have been grown under our shade cloth Nursery. We are very thankful for our partnership with Hope Seeds who has generously donated countless seeds that we have used at seminars, given to other farmers and missionaries as well as supplying our ATC.
Graduations & Accomplishments

We had our 3 agronomists Brunot, Jodelin and and Ritho graduate from college after five long hard years of study.
Our in country coordinator/board member/ lawyer Anson Augustave went to a special seminar in Port to continue his education in law and was given a certificate of completion. Great job gentleman.
We are very proud of our team!
Take a virtual flight ✈️ with MFI!

MFI is the AMAZING organization we fly with to Haiti on each and every trip-because of their service we can bring in irrigation, wheelchairs, bikes , supplies needed for projects and so much more!
Psalm139LOVE is honored once again to be featured in this video! ( we are at the 25 minute mark)
I will say that I recently found my baby book while cleaning out my moms apartment (to move her into the nursing home )and I was actually 5 and 1/2 when I accepted Jesus and got the call to be a missionary. I always estimated that I was 9 years old which is what I said in the interview they added into the video.
Paul Pecott, Barbara Howard ,Josh Leventhal ,Augustave Anson ,Brunot Jean,Borgella Jodelin,Louis Ritho,madame Elimane and BISSON are our official Psalm139LOVE team however we have amazing friends like Donacien Azelin, Youseline Pierre Louis, Barnabas Formilus, Nelson, Pastor Dabou and so many more that make everything we do possible. My right hand gal Angela K Priest has been with me on almost every trip since 2008 ❤️
We are #STRONGERTOGETHER! And without MFI we couldn't get a fraction of all we do without them !
Our New Male Goat -October 2020
PLEASE WELCOME ABRAHAM GERASENE
To our Psalm139LOVEATC where he will have a mini harem of about 7 lady goats to love on! We have a fun tradition of letting our donors name the goats they buy so our special friend who provided this handsome fella thought this name was fitting., Here's why ..
Abraham, because God used him to be the father of many nations and tribes. Or
Gerasene after the man Jesus cast the legions of demons from (The man's name is not mentioned in in scripture, but he was from the land of Gerasene). God also used this man to witness to his village so when Jesus came back, they had heard all about what He did to the man formally possessed, and were ready to receive Jesus. We decided he needed both names!
We will keep you updated with the love stories as they happen! Praying our ladies get pregnant right away so If you'd like to buy a female goat for our ATC or for a family they are between $60-$70 and you can name them! We welcome and appreciate ALL donations Psalm139LOVE.com OR
https://psalm139love.networkforgood.com/projects/104161-main-giving-page
September ATC/Farmers Market
Psalm139LOVE recently purchased 3.75 acres of land just a few minutes walk away from our guesthouse.
God gave us a vision to build our 2nd ATC and to open it up not only for seminars but also as a​ Farmers Market for the locals to be able to come and pick out their own fruits and vegetables which has never been done in this area.
With all the paving of the main roads many restaurants have been springing up close by and we intend on being a major source of a food supply not only for them but for fellow missionaries and the local community. We have been blessed during covid to not only pay a down payment in the land but to also have the money for a well , well tower and to install professional farm grade irrigation that was donated. We have a goat farm with 5 goats so far which will provide milk 🥛 and hopefully in the future we can make goat cheese!
A few ministries have come together, joined us, and we want to honor them -David and Maxine Balsbaugh of Hope Seeds which provide the vast majority of our seeds plus Mary McLaughlin from The Trees that Feed Foundation which donated 200 fruit trees. We have plans to build a gazebo, a bigger guesthouse in the future which we can use as a trading center and possibly a tilapia 🐠 fish farm! With God ALL THINGS ARE POSSIBLE!
We would love for you to join us in making Gods vision come to fruition you can do so by donating to any of our projects or by becoming A MONTHLY PARTNER 🥰 just go to the donate link !
If you have any questions please feel free to message me Amanda Pecott , my husband Paul Pecott , Barb Howard , Anson Augustave or Josh Levanthal . We welcome and appreciate ALL donations Psalm139LOVE.com OR

https://psalm139love.networkforgood.com/projects/104161-main-giving-page
Shade cloth at the new ATC Septem​ber 2020

This video is probably my fave!!
It shows a panoramic view and a PHOTO of most of the property!!! The land God had blessed us with us truly BREATHTAKING!
This combines yesterday's and today's pictures of it being installed.
So many came by just to help without getting paid simply because they love Psalm139LOVE and our team are friends of theirs.
Seriously so many are joining in because they see this as a huge blessing for the entire community. As we move forward there are many more projects we need funded to make this a success. If you'd like to be a part of it you can become a MONTHLY PARTNER because doin our payments will become due ( we put a down payment on it) or you can donate to a general fund which will support future projects. We welcome and appreciate ALL donations Psalm139LOVE.com OR
https://psalm139love.networkforgood.com/projects/104161-main-giving-page
OLDABERT VALCOURT received his food basket 🧺 with so much joy!! September 2020

Oldabert is a blind widow who has no relatives to help him- a wonderful family has taken him into their home and I finally was able to meet them. What wonderful generous hearts they have to have taken him in. They explained even though they don't have much they are willing to share. I then saw them at church on Sunday and it was such a blessing ❤️ We have a generous donor who makes sure he gets good every month which in turn blesses this family.

THERE ARE SO MANY IN NEED OF FOOD ;(
Psalm139LOVE.com FOOD BASKET We welcome and appreciate ALL donations Psalm139LOVE.com OR
https://psalm139love.networkforgood.com/projects/104161-main-giving-page
Amanda's Birthday Fundraiser​
MY BIRTHDAY IS SEPTEMBER 9!
I was called to be a missionary when I was 5 1/2 - I always estimated I was nine because I heard the call the moment I accepted Je​sus as my Lord and Savior. I heard clearly in my spirit I CALLED YOU TO BE A MISSIONARY❤️ Imagine my surprise when I found my baby book a few weeks ago and saw I accepted Jesus into my heart April 9, 1975. I was actually much younger then I estimated! Haiti is my passion and the past four years I have NEVER taken a salary- in fact none of our board has. We do this because we love what God has called us to do! We welcome and appreciate ALL donations which will go towards freight, solar panels, the truck, tools and in Haiti unexpected emergencies always happen. See video for details.
$2,000 is our goal! Josh Leventhal and I leave September 8.
Psalm139LOVE.com BIRTHDAY OR
https://psalm139love.networkforgood.com/projects/104161-main-giving-page
Work will begin of TIN ROOF #58 Monday August 31;)
Most of you know Nelson-one of the FORMER most powerful witch doctors in all of Haiti who has been transformed by Jesus and he goes out and evangelizes with us on many trips.
Josh and I had the pleasure of meeting his momma in January and God has done something amazing for her! You'll see in the video., 😊😆😃😄👋
Her roof is now fully funded and you can watch daily updates by:
going to my facebook page Amanda Backensto Pecott
Or
"Liking" our FB Page Psalm139LOVE
https://psalm139love.networkforgood.com/projects/104161-main-giving-page
ATC Phase 3 Funding August 2020
Phase 1- down payment on 3.5 acres of land ✔️
Phase 2- funds to get a 180 foot well drilled ✔️
Phase 3- build a well cover plus tower that 16-18 feet high and have a 600-1,000 gallon holding tank store the water needed
😃200 fruit trees have been donated thanks to
Mary McLaughlin from THE TREES THAT FEED FOUNDATION
😊ALL the professional farm grade irrigation made in Israel is donated !
😍seeds supplied by HOPE SEEDS in Bradenton
Total cost is $4,000
This will cover building the tower, buying a 600 gallon tank and the tools needed plus fly in the 400 pounds of irrigation supplies ;)
You can donate online at
Psalm139LOVE.com WELL TOWER
Or
https://psalm139love.networkforgood.com/projects/104161-main-giving-page
Part 2 of ATC Project- Funding the well August 2020
Praise the Lord the well ​for our Psalm139LOVE ATC has been fully funded!
Phase 2 is ✅ and very soon we will be launching phase 3!
CALVARY CHAPEL PARTNERSHIP July 2020
Today was EXTREMELY special as our
Pastor Danny Hodges announced that we are now a monthly Calvary Chapel Church affiliated mission and will be supported by a monthly partnership as well as start taking teams down to Haiti!
This is a huge blessing as we have been pretty much supported through our facebook videos and private donors. The church has helped finance wells in the past but they are now truly invested in us as Pastor Danny told me this morning.
I gave him the beautiful painting and he LOVED it! Specially since he's big into boating and fishing 🎣;)
We would welcome anyone who want to support us Monthly because up till now all monthly support goes into salaries for our team in Haiti ,Internet at our house in there, website etc. however there are extra expenses like fixing the motorcycles and our truck, insurance on the vehicles and things that pop up that are not covered.
Paul Pecott Josh Leventhal and I do not take a salary at all. Your added support would be a blessing for these extra expenses as well as help fund our future trips down.
I'll be heading back September 8 and am so excited to see how God is going to move.
We have a HUGE donation of solar audio bibles we will be taking and our focus will be evangelism for adults and working at the ATC.
​PSALM139LOVE
Go to Psalm139LOVE.com find out more about us, donate to a project of your choice or become a MONTHLY PARTNER ❤️🇭🇹🥰😊❤️🇭🇹😍🥰❤️🇭🇹😍🥰😊🇭🇹
Part 2 of ATC Project- Funding the well July 2020
Josh and I were in Haiti in January and went to look at the beautiful piece of land you see in this video. God has given Psalm139LOVE the vision and mandate to build our 2nd Agricultural Training Center. You can be a part of this life giving project by going to Psalm139LOVE.com and donating towards the much needed solar powered well that needs to be drilled. Once the well is finished, the next pahse will be the funding toward the well cover and water tower we will need. Please consider becoming a monthly partner to help make payments on the balance of the land for complete purchase or either of the last two phases of this important project. Since the video was filmed ( January 2020) we have given the down payment and the deed is in our name. Also we are almost halfway done with Phase 2. No amount is too small and we believe we are #STRONGERTOGETHER if everyone joins in the vision will become reality✅

Fetiere aka " CHOPS" is a close friend of Psalm139LOVE and is the boss carpenter we hire to put on all the tin roofs we raise money for.
He asked us for help to provide one for his family as it was raining inside, because the tin roof was old and rusted with holes in it, getting his family and everything inside wet.
He supplied all the wood which we really appreciated because it showed he was willing to do what he could to help.
The shoe Psalm139LOVE team decides to put their own " skin in the game" and volunteer to help for the five days it took to replace it.
You can see the before and after pictures plus in the video Mrs " CHOPS" is dancing 💃 for joy! So cute!
In the other video Chops and his wife give God thanks and let us know how this provision will change their life.
May it bring it smile to your face like it did ours!
Food Baskets & Other Blessings March-May 2020

Even though we've been hit with the corona virus on a global level that has not stopped Psalm139LOVE from still operating and blessing those who are in real need of assistance especially now.
A food crisis has truly set in, more then ever, during the lockdown Haiti is going through. Unlike our government here in the states they have no safety net, no unemployment money, no food banks, and no stimulus to help see them through. Add the fact that a lot of the food is imported from the Dominican Republic, the borders have been shut, inflation is skyrocketing and they are going to be facing major food insecurity.
We have given out over 35 food baskets, provided 5 mattresses and 3 bed frames , as well as starting to build 8 personal gardens for families and getting our land ready to plow to build our 2nd Agricultural Training Center. Thank you Jesus!
We were also able to provide the money to fix our dear friend, Pastor Dabou's motorcycle, so he can go out and share his testimony. He is a former witch doctor and his testimony is powerful and he has been asked quite a bit to come preach at various church's, but couldn't go because he needed new tires and a few things fixed on his motorcycle.
Thank you for your support because without you many of these people would simply not eat
February 27-March 5 Trip​ 2020
Haiti's Economy and our 2nd ATC Project 2020

Listed below are just a few of the reasons why our 2nd agricultural training center project is so important in Haiti. Our goal from a Biblical perspective is to teach a man how to fish. By teaching them through gardening and seminars to take care of themselves we will be doing just that. You can see by the stats below why we concentrate on food and water/wells in our rural area. To totally fund the remainder of this most important phase 1 of the project (buy land) is $7,500. We have done this before and the land we are looking at is in an area near a college that teaches agronomy with nowhere to practically apply the skills they are learning. Our agronomists that we employ are in their last year of schooling there so it's a perfect fit. Any amount you can send is a great help to this project, just put land in the notes. If you know of anyone else that would be interested in helping with this project including churches, corporations or other philanthropic organizations please let us know. Thank you for your support.
• Roughly 2.5 million Haitians live in extreme poverty (below $1.25 per day), predominantly in rural areas. The economy is largely informal and heavily dependent on small family farms.
• 11 million population with 45% of that rural
• More than 6 million out of 11 million Haitians live under the national poverty line of USD $2.41 per day.
Life expectancy 63 years
• Haiti is the 6th poorest country in the world
• Inflation 19.5% last quarter of 2019
• Food inflation 22.6% last quarter of 2019
• Avg # of meals/person per day 1.58​
• Imports for Haiti $4.8 billion
• Exports for Haiti $1.1 billion
• Forest area 3.49% of the land with a world average 31.5% of the land

• 2.75% of people in rural areas have electricity
• 3.52% of people get water from desalination plants
• 25% countrywide drink water from spring or unprotected well - 9th worst situation in the world
• In rural areas, people got their drinking water-primarily from unprotected wells (5%), unprotected springs (37%) and rivers (8%).
Featured Story of the Week
MADAME MISILIA GETS A FOOD BASKET AND KITCHEN ITEMS!

​This is one of the sweetest women I know and I adore her! See her joy when she finds out we came to visit and share with her much-needed items.
Thank you to her special donor who has provided quite a few times for her already.
With no government or family to fall back on many widows rely on the kindness of neighbors or simply don't eat. She lives about 30 minutes by motorcycle to the market that's only open on Mondays so how is she to take care of herself?
YOU can be the hands and feet of Jesus!
PSALM139LOVE.com FOOD BASKETS
Here's what we've been working on January 2020 Trip!
Great news! The goat farm at the Agricultural Training Center is beginning to have babies. We purchased 12 goats to get started 2 each for the gentleman that works for us, all females, and one male goat as they are much more expensive. Our first additions were the twins Jacob and Esau. The beauty is that they are both male goats.
This little guy is our latest addition. Look at those unique markings that he has looking very cool indeed. He has been aptly named Patches and continues the blessings of male goats joining our goat farm. We pray that the blessings keep coming.
Missionary Flights International Spends a day with Psalm 139 Love
Back in July my husband Paul, our board member Josh and I traveled to Haiti for a week. We were asked by
John Lain of #missionaryflightsinternational to spend the day with us on Sunday and he filmed us the whole day.
He said that out of all the things that stood out it was about personal relationships with those in our community.
He said he could have gone about 5-6 different ways with our ministry because we were involved in so many projects however we stand in the gap where most big ministries simply cannot. That is having close relationships with so many people- ever since I first went in 2008 I fell in love with the country and the people there and MANY are out close friends and have been since that first trip over 11 years ago,
#Psalm139LOVE #haiti #missions #missionarygirl #Jesus #bohoc #pignon #cayaronde #monac #amandapecott
Forme​r voodoo witchdoctor Nelson gets a motorcycle to evangelize.
We brought Nelson, who is a formerly one of the most powerful witchdoctors in all of Haiti, to the motorcycle shop for what he thought was a video to try and raise funds to get the one of his choice to evangelize. He has a true Saul to Paul story that needs to be heard and he gets many requests to speak. To his surprise, he was given the keys right there to make this come true. In what was truly a God divine appointment, Psalm 139 Love was put in touch with the charity that made it happen. We would like to thank
Mr. Arlen King @ Missionary Ventures
for making this dream become a reality for Nelson. Before Amanda and the team had even left the country from their October 2019 visit, Nelson stopped by the house to say that he already had 2 speaking engagements to evangelize in other areas. Thanks again to the motorcycle division at Missionary Ventures for all their help with funding this project.
BOUEKERONNE WELL VISIT #6!

A huge THANK YOU to Paul Pecott and my home church Calvary Chapel Fellowship Pastor Danny Hodges his wife Wendy and the kids at VBS. Our church adopted Psalm139LOVE for VBS and offered a matching donation to challenge the children to raise money to fix this well and it also raised awareness as to the condition of so many who don't have clean drinking water.
This well was broken FOUR YEARS causing those in the community to walk over an hour just to get dirty water to drink. There is no running water in the areas Psalm139LOVE serves. We have an amazing friend and we'll digger/fixer-upper named Deribert Etienne. Most wells average around $2,000 to be fixed. Maybe a bit more at this time as gas is about $10 US a gallon which increases the prices of everything.
Message me, Josh Leventhal, Paul Pecott or Gail Bain
if you have any questions. Winnie Saringo Ashwood Jeanne Barr and Angela K Priest and my team went out to see it firsthand. What a lovely 😊 sight to see people getting the water they need!
Psalm139LOVE.com WELL
#Psalm139LOVE #waterislife #missions #cleanwater #amandapecott #missionarygirl
#calvarychapelfellowship

Agricultural Training Seminar
Our 2nd annual PSALM 139 LOVE ATC seminar was a huge success and we have had MANY of the agronomists messaging me and the guys to let us know how much they learned and how grateful they were.
Our speakers were really insightful Fednet Louis, Jocelyn Azeme, Samuel and Josias J. Romeus of Hope Seeds from Gonaives. Hope Seeds we couldn't be more grateful for your partnership with us and in donating sooo many valuable seeds that are "teaching a man to fish" or to garden in this example. I explained that each would only get one packet of seeds however if they send pictures of them using the seeds we can give them more.
The Mayor of Pignon, Nicholas Victorin (in the video speaking ). stopped by to visit and shared how valuable the ministry of Psalm139LOVE was to his area. He is a personal friend of ours and shares his wisdom and insight with us often.
Upon graduation, each attendant of the seminar got a Hope seeds bag ( thank you David-Maxine Balsbaugh) a family packet of seeds and a certificate. It was like a graduation ceremony! Really a lot of fun calling each up to receive it.
In Haiti, many can't afford to go to school so a certificate is very valuable and extremely important while going on a job interview.
Winnie Saringo Ashwood and Jeanne Barr packed the bags up and Gail Bain wrote out the certificates with her beautiful handwriting. Borgella Jodelin Brunot Jean Augustave Anson Frednel D. Antoine Donacien Azelin, Barnabas Formilus and Pastor Erivu all worked on many aspects as well as Bisson. #Psalm139LOVE #HopeSeeds #agriculture #missions #missionarygirl
Our new male stud goat 🐐 ( kibrit )for our goat farm.
We drive over to Many hands for Hait which is close by as Fednet Louis has been discussing with Claudin which one to buy.
Paul Pecott Josh Leventhal and I met
Darryl DeRuiter, his wife Shelly DeRuiteras as well as Liz Clarke who works there full time on our last trip.
Winnie Saringo Ashwood is our "goat 🐐whisperer"
and has raised funds for many goats in the past and this trip. She names each one and this is dedicated to those who work with her at David YURMAN in Florida.
We bought 12 female goats and the guys will be selling the milk and breeding the goats which will bring in income. Much like starting a small business.
Meet Josh Leventhal & Anson Augustave
Psalm139LOVE has been truly blessed by these two men, Josh and Anson , by joining our team! God must really like us to bring these two awesome men to work with us in so many capacities because our ministry would not be the same without them. Both of these godly men are now on our board and are an invaluable part of our lives as well as the ministry.
Isaiah 41:
17 "The poor and needy search for water, but there is none; their tongues are parched with thirst. But I the LORD will answer them; I, the God of Israel, will not forsake them. 18 I will make rivers flow on barren heights, and springs within the valleys. I will turn the desert into pools of water, and the parched ground into springs.
This was a prophecy given to me on my last trip to Haiti in October 2019. This was after our 6th well was fixed and is very fitting for a huge part of what Psalm139LOVE is about.
Gadiram and been without water a very long time and the children and adults were forced to go seek water from the holes in the ground you see in the pictures below. The water was contaminated, it is also where the animals drank from and made them very sick. Most Haitians have very little money to even eat so they can't afford a doctor.
Water is life and needed for every aspect of their lives from cooking, cleaning dishes, washing clothes, taking showers etc.. they do not have the luxury of turning on the tap to get a glass of water or going to a real shower as we in America do. When a well breaks down the ENTIRE COMMUNITY suffers but you can make a difference! For an average of $2,200 most wells that are broken can be fixed!
Psalm139LOVE.com to donate.

Agricultural Training Center/Well Update
Paul was spending a lot of time in prayer/meditation during the summer of 2018 before the August 2018 trip. We were about to build 2 homes and had no experience in this area and he was looking for some guidance. During one of these prayer times, he received a download from God saying we were to build an agricultural training center. We were to then duplicate this in multiple areas. What Paul did not know was that Rad Hazelip from Love A Child had said to Amanda a year earlier that we would be building an ATC. That was a confirmation for sure, but it was not the end of the story. During the trip, we visited Fednet Louis's family for the first time and Paul instantly knew this was the property for the initial ATC. It was barren land missing one important thing - WATER.
Big thanks to Paul Maggard @ Ragged Edge Ministries along with Pastor Danny & Wendy Hodges @ Calvary Chapel Fellowship for donations to supply all things needed for the well project. Here is an update from only 7 months after the well was drilled and less than a year after first setting foot on the barren land.
The Well @ Rozo fixed #4!

​
The well at Rozo had been broken for quite some time and these pictures of these precious children broke our heart seeing where they had to get water from. Painfully this is the case for many children and adults because nobody in our area has running water and all rely on local wells to be able to get fresh water. However many wells have simply broken down and the government does not fix them so many are forded yo walk sometimes one hour to get contaminated water that they need to drink, wash dishes, cook with and take baths with.
We were blessed to actually meet the children in these pictures and pump the well with them and see fresh clear water pouring out!
This was our 4th well we had fixed and Praise God at this present time of December 2019 we have fixed 6. The average cost is between $2,000 to $2,500 depends on what is wrong and the cost of parts to fix it at the current time and price of gas. The country has been in chaos recently and gas has hit as high as $12 a gallon US! So this effects everything.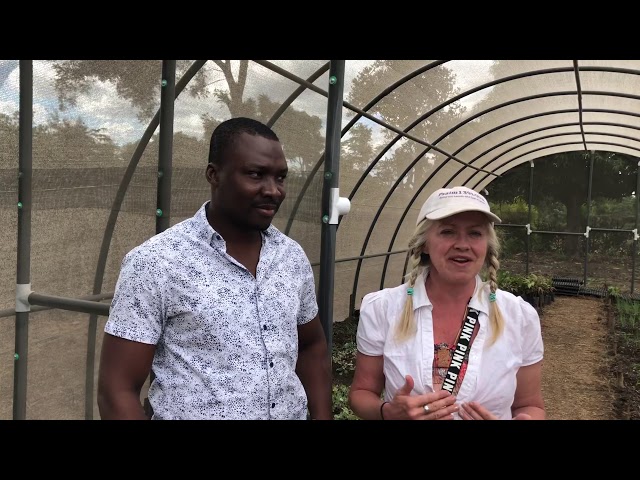 2019 - Amanda meets the Mayor of Pignon Nicholas Victorin
The mayor of Pignon stopped by to meet me and see all that was being done at the Future Agricultural Training Center in his city, Pignon.
Rad Hazelip from Love-A- Child connected us a few months back and
he's been very helpful in getting the contract on our new well completed. It was great to finally meet him face to face and spend some time with him plus get his blessing in the project! Want to donate our partner with our ministry? Go to Psalm139LOVE.com/donate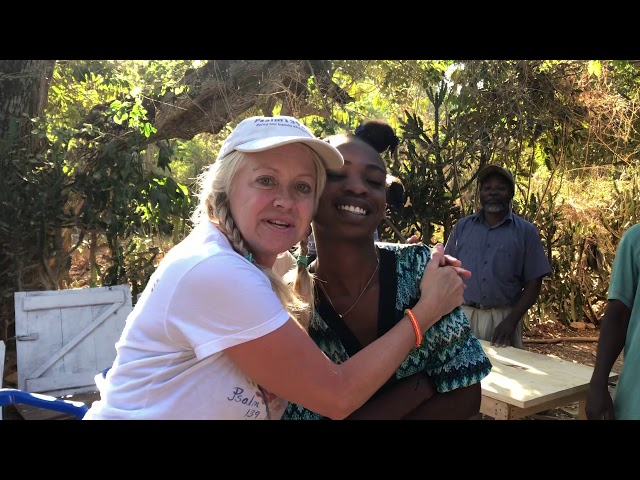 2019 - Psalm139LOVE Guesthouse 2019
We have almost completed the guesthouse which will be for our ministry teams we bring to Haiti plus for other ministries and missionaries that will be working with us on different projects. This has been a total transformation to this home. If you plan on coming with me in a trip this is where you'll be staying! We could use donations for a double bed, mattresses, WiFi and various smaller needs like rugs and pillows. If you'd like to help us finish this much needed project go to Psalm139LOVE.com and put MISSION HOME in the memo.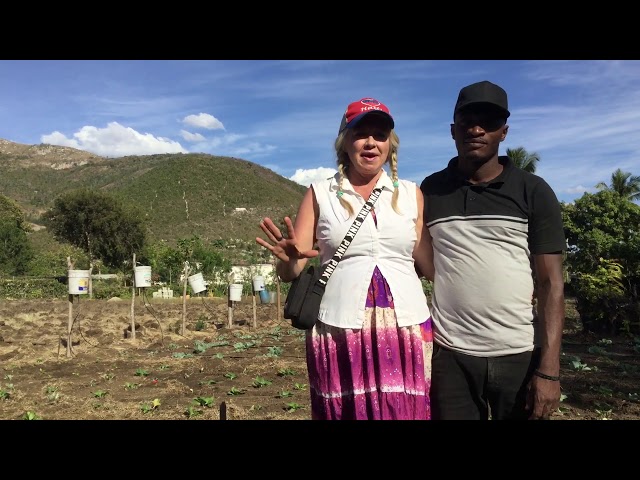 2019 - Spotlight on Jocelyn "Diggy"
Psalm139LOVE along with our monthly partners is able to employ six people which is such a blessing with a country of an unemployment rate of about 80%. Jocelyn is one of our agronomists who works not only in GRAS LI Gardens but with our other gardens in Cercade and Pignon. He recently wedded a wonderful woman named Ludmie. We're excited to have you get to know Diggy a bit in this short introduction video.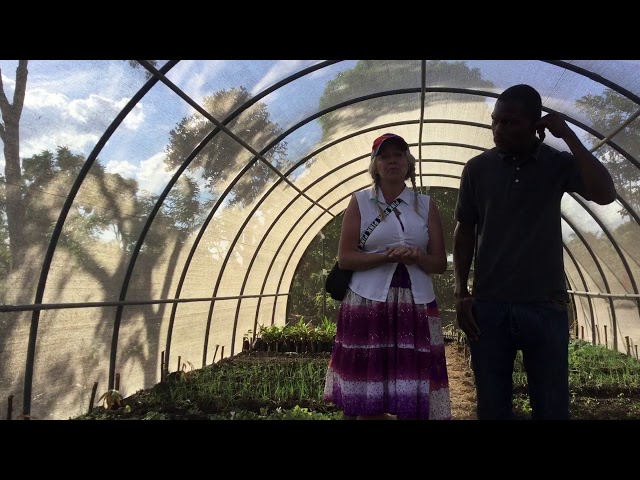 2019 - Spotlight on Fednet Louis
Fednet Louis is a Godly young man with a big heart. We employ him through the ministry Psalm139LOVE. He has opened up his property to us and we are working alongside him to build an Agricultural Training Center in Pignon where he lives. So far we have had a well drilled there, a shade house built, a fruit tree nursery has been built, he has a papaya garden, and 12 kids have gardens in the back that they tend to on a daily basis. He teaches 200-250 children about Jesus every Saturday and this children have been active helping him in any way needed. If you want to partner with our ministry, you can do so by donations one time or becoming a monthly partner. It's with our Monthly Partnership that we are able to hire six people and would love to employ even more hard working men and women .
2019

​Psalm139LOVE Guesthouse

See the transformation so far! The outside of the house was painted a vibrant yellow and blue with decorative windows.

The dining and gathering place was completed with new floor and roof and painted purple on the outside.

A brand new shower was built. It too was painted purple. Then a brand new concrete outhouse was constructed. It has not been painted yet.

The inside has been remodeled. Pictures and video coming soon!coming soon!



Psalm139LOVE Signs Lease on Future Guesthouse


(Mission Trip Augu​st 22-30, 2018)

Pastor Arias Gets a New House and Some New Furniture
Psalm139LOVE Future Guesthouse

Part 1 (inside)
The day Pastor Arias' house was built, Amanda signed lease on Psalm139LOVE guesthouse. Now to fix it up!
Psalm139LOVE Future Guesthouse

Part 2 (outside)
The day Pastor Arias' house was built, Amanda signed lease on Psalm139LOVE guesthouse. Now to fix it up!

Pastor Arias gets a new house

In August 2018 we were blessed with a generous donation that allowed us to build not one but two houses! We received a BOGO from Els Vervloet of Maxima SA housing After we showed her a video of the shock that Pastor had been living in since his childhood. He lives with seven other family members in a house that was over 60 years old and was run down and dilapidated. In fact, the wood was so soft and brought it that we couldn't even put a new 10 roof on because it's simply couldn't support it. In Monac we drilled a new well, built a Cooking Center, started a big garden, provided about 3010 rules for those in the area as well as over 50 scholarships for children to go to school. The last big project we have prayed for was a new house for him but it was even better that we both too. He lives with his wife, mom, and adopted daughter in this house and his son and his growing family were blessed with the house of their own across the way.
YOU CAN MAKE A​ DIFFERENCE!

Look at the BEFORE and AFTER pictures!

If you'd like to help, please go to our donate page!

Thank you! (click picture to enlarge)
Psalm139LOVE Making a Difference
Psalm139LOVE is all about making a difference in the lives of people living in very remote villages in Haiti. It is our g​oal to win them to Jesus and to enhance and make better living conditions for those in need. We minister to the lost, the saved, the sick, the widows, the orphans and children. If you would like to help us in our mission, we would be so grateful.

I will praise You; for I am fearfully and wonderfully made: marvelous are Your works; and that my soul knows right well.

How precious also are Your thoughts unto me,

O God! how great is the sum of them!

Please browse through our store.

On occasion, we have special items you can purchase for yourself where 100% of the proceeds go back into the ministry.

However, we always have in the store, the opportunity for you to bless a Haitian family. You can buy a goat, tin for roofs, cement floors, bags of rice or a food basket etc.

Please take a look around!

We hope you will prayerfully considering supporting this ministry through your monetary donations. Every penny you donate, you will see with pictures and videos exactly what your donation is going towards. You can give a one time donation or become a monthly Love Partner.

The Lord has blessed our ministry with many divine appointments with

amazing people.

Please take a look at the good folks who have blessed and partnered with Pslam139LOVE


0

/